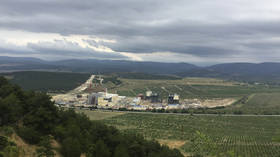 2 weeks ago DieselGasoil Comments Off

on Connecting Russia: First railroad span across Crimean Bridge complete
The bridge linking the Crimean Peninsula with mainland Russia has had its first railroad line completed. The first train is expected to cross the newly built Crimean Bridge later this year. It reportedly took 5,000 tons of tracks and 38,000 reinforced-concrete sleepers to build the 19km rail line, according to the Crimean Bridge press center.
Read More